TOT / TOT−V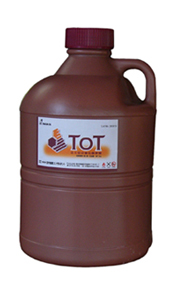 Specifications
ingredient
Sol included silicon
Specific gravity
0.835 g/cm²
Viscous level
1.09 × 10‾­² g/cm・sec
Si-atom
a little to 10% in the solution
The photo is the 2.5L bottle
TOT is introduced in Fukui Prefecture's web page ↓
                

"TOT", our external shape preservative used for remains, is the product co-developed by archaeologists and chemists for the purpose of protecting from weathering cultural heritages in the world made of stones and soil. Application and infiltration of this preservative on the surface of the remains enable not only surface reinforcement but prevention of these remains from being deteriorated and damaged. This preservative also enables cost reduction compared with conventional reinforcing agents for building materials. Moreover, this is a safe product with low environmental burden which can be used with security. This product has been used for reinforcement and preservation of not only the Mayan ruins of El Salvador but of earthquake fault of Taiwan.

■Three features of TOT

High weatherproof performance
We carried out the field experiment against weathering with three samples which are treated with TOT in different ways respectively. Sample A (no treatment) was washed away by the wind and rain in a couple of week.. But Sample C (soaked with TOT) had been keeping its original shape even after six months. Sample B (sprayed with TOT) lost a part of it because TOT didn't penetrated into it.




 TOT can keep materials' color and appearance
Right photo is a result which shows how the original color is changed after the TOT treatment. Little change was appeared on the surface color of the tuff which soaked with TOT. And also, there was no film or gloss on the surface. 。

 TOT enhace the hardness of materials
TOT can also make the materials strong..
This is the performance to attest the effect of it.
We applied TOT to tiles in the Middle Ages. We evaluated its hardness in accordance with Vicker's hardness test. As the graphs below shows, hardness was enhanced about four times as the no treatment sample. Addition to this, in the case of stone materials, the suction ratio becomes so low that its durability against weathering is getting strong.

In Taiwan.
The fault was appeared by the big earthquake. The museum has been preserving a part of it. TOT treatment was done to the surface of the fault.

In Chalchuapa remains of Mayan civilization.
The state of weathering had gotten worse because of the wind and rain. We sprayed TOT on the ground of the ruin.
For further information or samples please contact us via email.